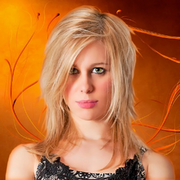 Cristina Rodriguez (born April 15th 1990, aged 31, Mallorca) is a YouTuber and dancer from Madrid, Spain. She runs 3 YouTube channels: LunaDangelis, MediaLuna and LunaBlox, all in Spanish only. Her channel was created on September 11, 2011, although she did not upload any video until July 22, 2012.
Depiction in Equestria Girls
Cristina appears in Crystal Prep High Rocks as she's stranded by the side of the street in downtown Madrid, Spain's capital until a Ford Galaxy Titanium Diesel driven by Applejack and her friends pulled over to offer her a lift. As the Mane 10 managed to speak Spanish for the first time, eventually they are on the way to Bilbao for a holiday. Twilight also mentioned that they are having a convoy to Bilbao, including the SEAT Tarraco driven by Sebastian. Later that evening, once they managed to arrive at Occidental Hotel in Bilbao, Spain, the Cutie Mark Crusaders (Scootaloo, Apple Bloom, Sweetie Belle, Babs Seed, Diamond Tiara and Silver Spoon) also managed to speak Spanish as well and Babs has accepted a new name in Spanish: Semilla de Babs. When Gordon tells Cristina that the Shadowbolts do not speak Spanish, she manages to speak English for the first time. However, much to Moondancer's frustration, Cristina calms Moondancer down and Pommel confesses that people can learn to speak other languages. Nova convinces Moondancer to accept the fact that the Mane 10 can speak other languages as well.
The next day, as the Mane 10, the Shadowbolts, Amber, Anna, Cristina, Moondancer, Marek, Nova, Pommel and Zooey took a drive all over Spain such as visiting the Alhambra palace in Granada and go hitchhiking in Parque Natural de Los Puertos in Spain's East coast. As they began to depart for Portimão, Portugal, Applejack drops Cristina back to Madrid.