Pony Info

Marshymellow

Name

Marshymellow

Race

Pegasus

Gender

Female

Cutie Mark

Burning Marshmallow on a Stick
Description
Marshymellow loves spending times outdoors doing any sort of activity. She enjoys playing sports (soccer is her favorite) and loves camping! Her favorite part about camping is when it's night time and there is a fire so she can burn some marshmallows!
She is a member of the Marshmallow family, and loves social drinking!
History
History about the pony.
Other Info
Marshymellow is a very social pony, and loves being around other ponies. Her favorite Pokemon is a Charizard, because he likes to burn marshmallows too. She loves hosting parties, and in Cloudsdale she is the party throwing pony!
Creator Info
Cupcakes! So sweet and tastey! Cupcakes! Don't be too hasty! Cupcakes! Cupcakes, cupcakes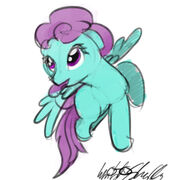 CUPCAKES!
Marshymellow on teh chan!