Pony Info

Poppy

Name

Poppy

Race

Pony

Gender

Female

Cutie Mark

Popcorn

Creator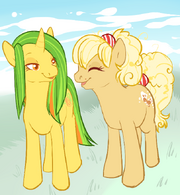 Description
Poppy is an earth pony. Her parents were flower-arranging ponies who expected the same of their daughter but she had a taste for other talents. And even to their showing disappoint Poppy keeps a rather bubbly demeanor! Always sweet, always happy, always trying to put a smile on others faces even on her bad days. Poppy doesn't know how to deal with her negative emotions which leads to mostly awkward excitement and randomness.
So she sells popcorn snacks she makes herself, it's not a lot to make on her own so she rooms with Citrus Tang to afford living where she's at. She's found the path she wants to be on but hasn't quite gotten the support or stable footing yet? Still working it out really.
History
History about the pony.
Other Info
Other info about the pony
Community content is available under
CC-BY-SA
unless otherwise noted.