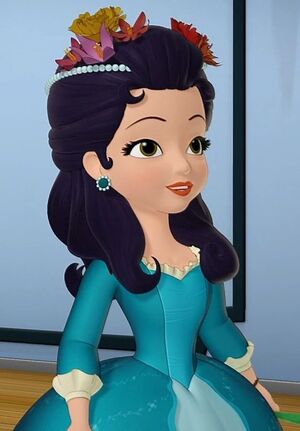 Princess Hildegard, sometimes known as Hildy, is another entry-level student to Canterlot High School. She's also another character who left the old Disney Junior TV series Sofia The First into the world of My Little Pony: Equestria Girls after Sofia and Amber. She's also a member of the Amber Crew and a Jaguar Land Rover enthusiast. She lives in 74 Sunset Drive, Tinton Falls, New Jersey, coded 07724 with her boyfriend Huckleberry Pie, her cousin Blueberry Muffin and her two nannies Sour Sweet and Sweeten Sour.

As of 15th May 2021, she now drives a more practical 2016 Range Rover Sport SVR Carbon Edition to replace her old 2014 Jaguar F-Type that was crashed into a tree back in 2016.
Depiction In Equestria Girls
Hildegard first appeared in the film The Journey Continues as Moondancer spotted her stranded by the side of the road outside of Pittsburgh, Pennsylvania in her Mercedes-Benz S-Class Coupe, so she pulled over to offer her a lift. After Hildy agreed, she climbs inside the S-Class Coupe. When Hildegard mentioned that she's off to find Amber, Moondancer realized that she travels to Europe with Sofia and Amber. The duo introduce themselves.
Once the duo ended up at Lyra's house in Shaker Heights, Ohio until Hildegard spotted a letter that Amber left behind her house telling Hildy that she departs for Italy, Sweden and the United Kingdom with Jade and Ruby Hanshaw who just entered Canterlot High School. This situation angers Hildegard and she definitely hate villagers until Moondancer tries to calm her down by explaining that Sofia and Zooey becomes Crystal Prep's Shadowbolts members. After a brief explanation about the Shadowbolts, the duo decided to have lunch at McDonald's Mayfield Road until Lemon Hearts, Minuette and Twinkleshine appeared just ahead of Moondancer as she witnessed someone slapping her cheeks. Once Hildegard got out of the toilet, she meets Lemon Hearts, Minuette and Twinkleshine for the very first time. After lunch, Hildegard decided to sleep with Moondancer and her friends during Amber's absence.
At Moondancer's house in Port Monmouth, New Jersey, Hildegard decided to do some aerobics with Moondancer and her friends while listening to the song When We Stand Together by Nickelback.
Hildy later appeared during the video chat with Trixie, Jade, Ruby, the Shadow 10, Bulk Biceps, Amber, Lyra, Derpy, Emelina, Bon Bon and the Mane 10 during their trip to Leeds, the UK.
Gallery