"They don't call me the Ace of Spades for nothing" - Spades
Pony Info

Spades

Name

Spades

Race

Pegasus/Dragon Hybrid

Gender

Male

Cutie Mark

Spades
Description
Will be updated later.
History
Spades was born in city called Hoofswell. As he was he was just born he got surgically operated by his mother when he was foal. His mother tryed to create somekind of combination of dragon and pony out of him. Years later he managed to unlock that dragon side in him wich saved his life back then.(Will be updated more later.)
Trivia
Ironically Spades suffers from Dragonphobia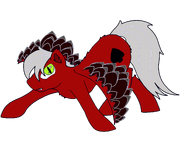 Community content is available under
CC-BY-SA
unless otherwise noted.