Pony Info

The Wastelander

Name

The Wastelander

Race

Pony

Gender

Male

Cutie Mark

None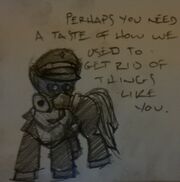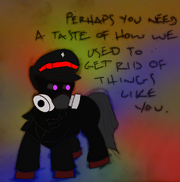 Description
The Wastelander a Post-Apocalyptic character, hailing from far in the future, who occasionally encourages the ponyfolk and gives them advice th who desire only to avoid such an end.
He's also a notorious troublemaker, so whenever something is going on and he shows up everypony knows that big things are happening, on the way...if not already there.
History
FROM: A possible post-apocalyptic future
The Wastelander has been around for a very long time, longer than most can even remember. He's seen the rise and fall of many great empires, interests, and memes. He led and took part in many great battles, and in this day and age is seldom if ever seen. Much of his past lies shrouded in mystery, and at present he seems to
Community content is available under
CC-BY-SA
unless otherwise noted.