Hello I am Aniju and I am a fan of My Little Pony, however I don't consider myself a bronie since I am of the intented gender for the audiance of the show. Still I enjoy My Little Pony but I am not obsessed with it like some people I know.
If anything I am a meerkatnut! I loved everything about meerkats, Meerkat Manor and the Kalahari Meerkat Project. I often name my characters after my favorite meerkats which is why some of my characters have odd names, however I have become pretty good with My Little Pony names.
Besides meerkats I adore other animals as well. I also like fictional animals like pegasues, dragons and such. I am an artist, though I don't like or have the time to draw pictures for other people. I am not all that great at drawing horse and semi okay with My Little Pony style. I have developed my own style so I am sticking with that. I also love music, if there is anything I can be considered obsessed with it is music. I enjoy a large range of music types, most favorite is tencho, rocks, electoric and so forth.
Since the first season of My Little Pony I thought up this long started surrounding an OC of my named Rith. This story has been interwoven into a long going project of mine and is a major crossover. I will write the part concerning My Little Pony here.
Also I seem to have a slight form of dislexia so I'll probably misspell some words, and my space bar on my lap-top doesn't work when I type fast, so there probably be some conjoined words. I'll fix them myself when I see them, but it makes me feel stupid when others edit my spelling, I don't know why, it just does. So I'll try to fix things to the best of my ability. If you are going to edit my pages, please tell me first.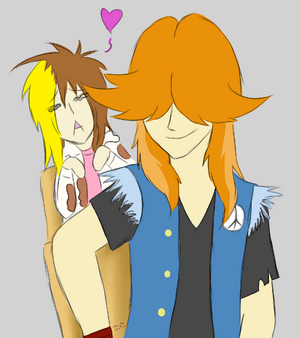 Important Blogs I need a quick link too.
Stories
I don't finish things I start. A Royal Birthday Party
My Characters
A list of all my characters (I got more but not all characters have been named so I will add them as I go.)
Multi-Ponies (Original Characters I use in many different fanoms, not orignally Ponies)
Alicorns
Unicorn Ponies
Ziggy Quagga (Zebra/Horse hybrid)

Pegasus Ponies
Earth Ponies
Changelings

Other None-Pony Characters
Zephyr (Rith's Bakugan)
Equestria Girls Characters
Drummer Stix (Actually a Canon background character)
Groups
Species
Gift Gallery
All of artworks made by friends.
Community content is available under
CC-BY-SA
unless otherwise noted.